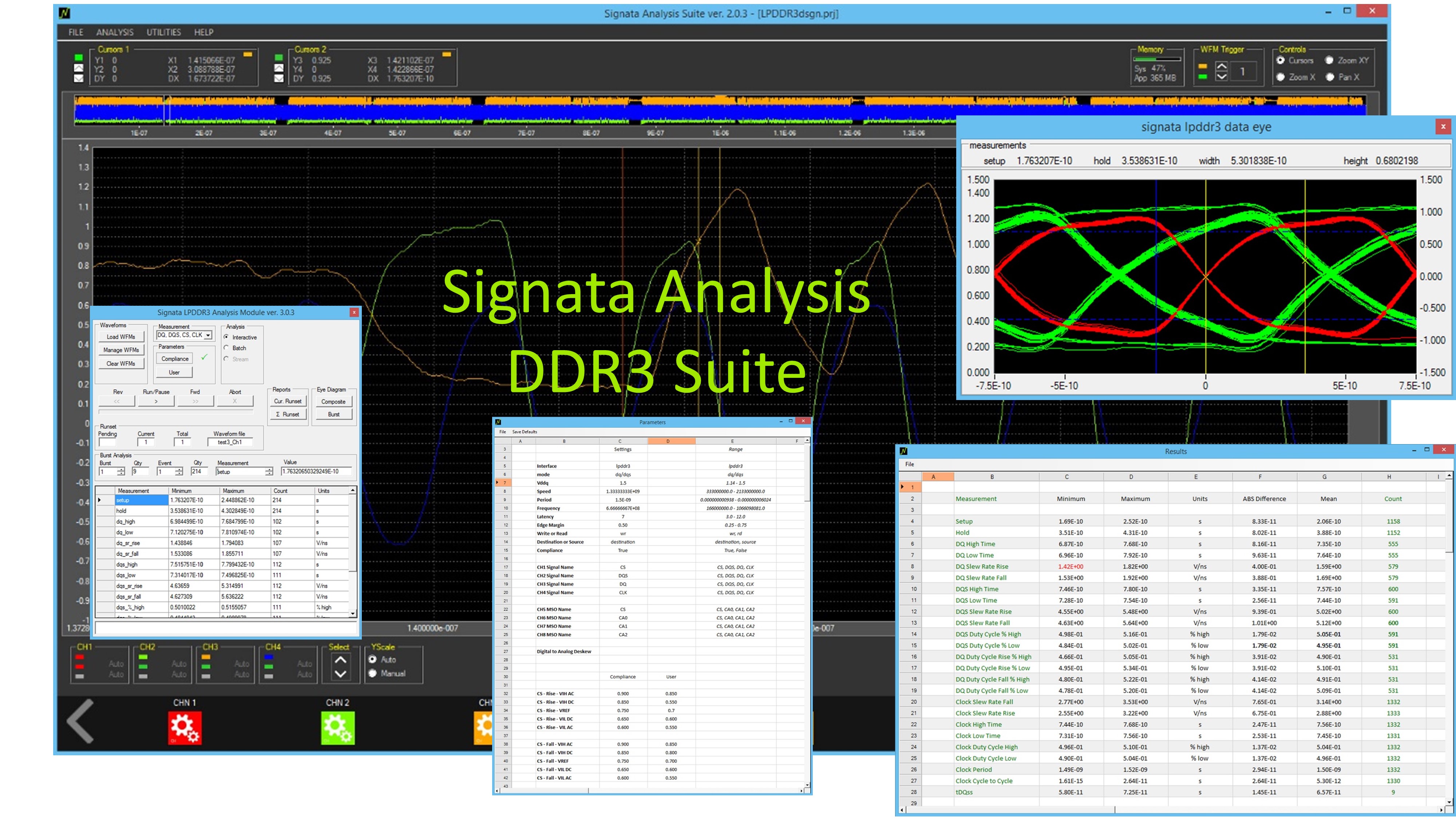 Signata DDR3 Analysis Suite
The Signata DDR3 Analysis Suite software allows you to view and analyze DDR3 (JESD79-3F) and LPDDR3 (JESD209-3B) data captured from your oscilloscope anytime and anywhere. You will gain instant insight into device performance, spec compliance, quickly determine the root cause of any electrical issues and substantially increase your team's performance.
Key features
Reads wfm, bin, csv, txt, and simulation tr0 waveform files
Easy correlation between simulation and lab scope waveforms
Supports up to 12 channels with multiple sample rates and size
Performs multiple measurements from the same set of waveforms
Supports "compliance" parameters and "user defined" parameters
Analysis mode supported are interactive, batch, and stream
Events trace-back to waveforms
Histogram, time-trend and worst-case plots
Automation and Report generation
The one tool for: electrical verification, debug, compliance, correlation, specification development
Quick Finder quickly locates and open controls and data
Easily share analysis with geographically dispersed teams
Refer to Signata Waveform Viewer datasheet for further information on the main window viewer features
Applications
DDR3/LPDDR3 interface electrical verification
DDR3/LPDDR3 interface electrical characterization
Debug issues
Correlation between measurement and simulation
Compliance
Specification development
Signata DDR3 Analysis Suite works seamlessly with other product offerings from Signata Corporation such as Waveform Viewer, etc. Together it offers a powerful signal analysis tool suite to acquire, analyze and interpret data from signal acquisition systems for compliance, validation, debug, characterization, correlation, and specification development.
Supported Operating Systems: Windows 7, 8, and 10
Supported Licensing model: Nodelock
Software distribution: through secure download from Signata website or CD if requested